The Private Profile configures agent settings data below which is not shared with public.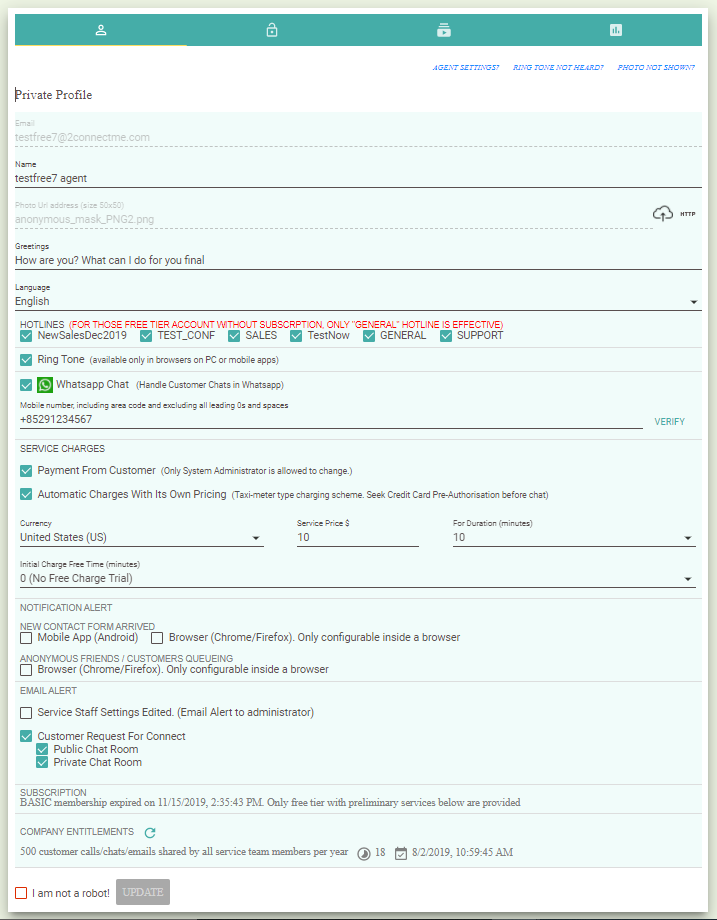 Customer Greeting & Agent photo
Particularly, the following fields are important as they are shown to customer at the beginning of each chat.
Photo Url address
Greeting to customer
Photo Url can be your actual image file to upload to 2ConnectMe Cloud drive, or your own Http URL link. Please take note that the image file in the 2ConnectMe Cloud drive could be shared with internet users even though "Allow Public Users to View" is not checked.
This Photo Url can also be blank and agent name based Avatar image is generated as agent photo.
Hotlines
Hotlines / Chat room assignment checkbox is used to configure which hotline / chat room this agent will handle. Please take note that only "GENERAL" chat room is effective for Forever Free Plan.
RingTone
Please note that Android / iOS browsers do not allow playing ring tone due to security constraints. It is only effective in Mobile Apps and Desktop Browsers.
WhatsApp Chat
This checkbox settings with "Checked" value means allowing 2ConnectMe backend server to assign customer WhatsApp chat to this agent.
WhatsApp phone number
The WhatsApp mobile phone number of this agent is also required here. It requires to include of area code and skip all the leading 0s and spaces. Examples:
Use: 1XXXXXXXXXX
Don't use: +001-(XXX)XXXXXXX
"Verify" button lets the agent to test the WhatsApp phone number. After clicking "Verify" button, the agent should be directed to WhatsApp web. The following screen is a typical screen captured in successful forwarding to WhatsApp web.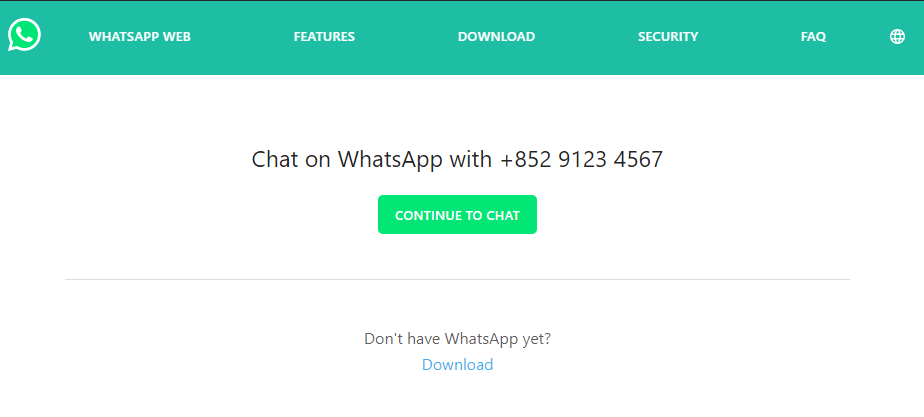 If WhatsApp web warns that the page requested does not exit, "We couldn't find the page you were looking for" as screen shown below, that means the WhatsApp phone number is invalid.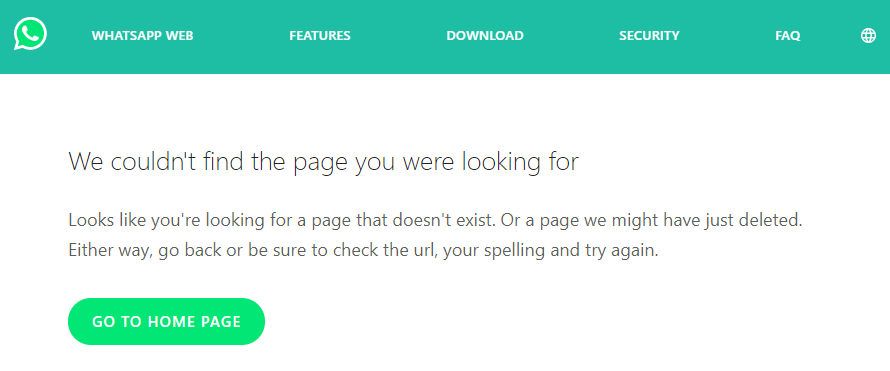 Service Charges
This settings enable agent staff to charge customer during the chat. Two types of service charges method available below.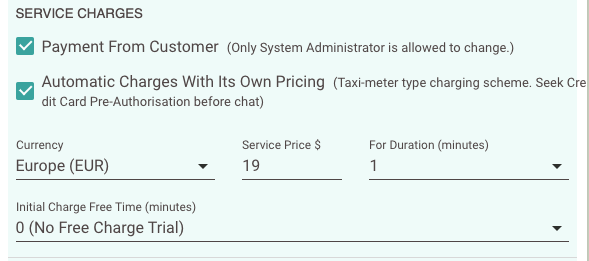 Payment from Customer
It is Manual Payment Request that allows agent issues Payment Request to customer and let customer pay it through credit card on the fly.
This option is enabled or disabled by System Administrator Only.
In order for agent empowered with Manual Payment Request button on agent phone, it is also required to enable this option in the Chat Room settings.
Automatic Charges with Its' Own Pricing Scheme
When the chat room is enabled with Automatic Charges and agents' own pricing scheme, agent is able to setup his own pricing.
Automatic Charges will trigger 2ConnectMe to charge the customer automatically according to the actual duration and pricing scheme of the chat rooms. It also requires customers to provide the credit card details for pre-authorization before the chats. The final charge is calculated at the end of chats.
It is a taxi meter like charging scheme. Initial minutes are provided for FREE. Then, it will charge for $ dollars for initial N minutes (minimum charges for initial N minutes). $ dollar will be charged even though the initial conversation is less than N minutes. After Nth minutes, it will charge at the flat rate $ dollars for N minutes pro-rata to the remaining duration of service provided.
Agent's own pricing scheme for automatic charges is only effective for his own Private Chat Room.
For the details of pricing scheme setup for the service, please refer to Business Revenue – InApp Payment.
Please take note that
the charging meter will be updated for every 30 seconds. The meter starts to charge the customer when either party press the red hangup button. In case either party disconnects accidentally, e.g. due to network stability issues, for over 90 seconds without reconnection online again, 2ConnectMe backend server will still start to charge the customer automatically and both parties will be forced to terminated the chats.
During the disconnection period and before 90 seconds timeout, the charging meter will stop counting until both parties get reconnected again. However, due to some network delay and stability, it may take up to 30 seconds for local client to detect such network disconnection.
Again, 2ConnectMe will not store any customer financial information, e.g. credit card. The customer financial information will be sent to the 3rd party payment gateway solution provider, stripe.com. This eliminate the possibility of leakage of customer financial information from 2ConnectMe.
Notification Alert
Email Alert
Test kb
Company Entitlements
The status of COMANY ENTITLEMENTS (500 chats shared by all Agents). The figure above shows 3 of 500 chats (Free Tier) Company Entitlements are connected and used.